November 15, 2010
You may remember the fantastic Podcast #108 interview with Rick Kaselj, entitled "Why You Have Muscle Imbalances" (if you missed, I'd recommend you listen sometime this week!). If you're a total fitness beginner, I gotta admit that it's probably not for you. But if you've taken that extra step to want to know exactly what makes your muscles "tick" and how to fix them when they're broken, Rick's your man.
Rick just wrote me an e-mail that over the last few months, he has been getting feedback from the hundreds of fitness enthusiasts who want to know more about their own body, that have gotten the program "Muscle Imbalances Revealed", to see how he could make it better. He also got constructive criticism from trainers, coaches, and therapists using the program.
This is the feedback that he got from them:
Muscle Imbalances Revealed needed more lower body muscle imbalance exercises…
People like you wanted more information on what muscle fascia is and how to work with it…
People like you wanted to hear about new trends in muscle imbalances …
So apparently he's been slaving away on this stuff, and just finished some big modifications to Muscle Imbalances Revealed…and here is what Rick told me he added to the knowledge database (that you have access to for the next 5 days only here):
#1 – Naked Running (Value – $27)
There has been a lot of talk about barefoot running in the fitness industry of late.
So I asked my friend, Jon-Erik Kawamoto, what he thought about it.
He said it would be best if he wrote something on it.
He ended up writing Naked Running for you.
Even this week, Jon read the book over and had so much more to add to it that he re-wrote it and added even more great information.  Very cool!
I know you may be wondering if barefoot running is a good thing to do or not, as I did.
You may have seen all those people wearing those funny slipper toed shoes and wondered if they work or are just hype.
All the answers are here for you! You have to check this out!

Now specifically what Jon goes through:
Those five finger shoes, do they work or do they look goofy
Are shoe companies wrong in the way they design shoes
How to make your own zero drop shoe
Is barefoot running for you
Where did this barefoot running thing come from
If you've every been curious about barefoot running, or you're a follower of the barefoot running debate, this is a must-read.
——————————————-
#2 – Muscle Imbalance Exercises for the Lower Body (Value – $89)
I got a lot of feedback on Muscle Imbalances Revealed from all the health and fitness folks from around the world, and the number one thing they wanted was MORE EXERCISES, so here you go.
For the update, we added more exercises that help address muscle imbalances in the lower body.
This bonus is a live presentation that I had done a few months back where I went through well over 50 exercises to address muscle imbalances in the lower body.
Some of them are unique and different, but very effective.
You get the video of the presentation and a handout with pictures of all the exercises.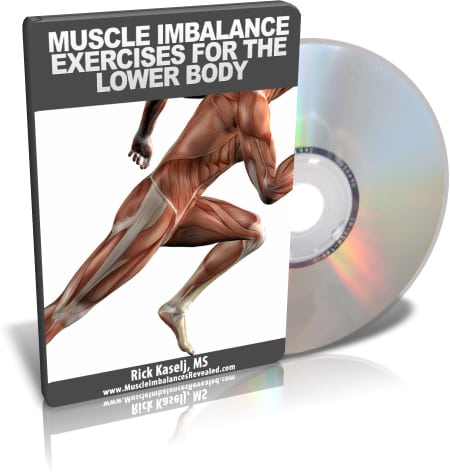 ——————————————-
#3 – Fascia, Exercise & Muscle Imbalances – Part 2 (Value – $68)
The video presentation in the original Muscle Imbalances Revealed that got the most feedback and response was the video on fascia (Component #7 – Fascia, Exercise & Muscle Imbalances).
This presentation specifically talks about Training the Myofascial Lines for Back Injuries.
Fascia is not commonly taught to fitness professionals or included in discussions about achy muscles, and when it is, it's often explained vaguely and without detail. In Fascia, Exercises & Muscles Imbalances Part 2 (You also get part 1), the fascia is explained in great detail. But better yet, it is explained how you can address fascia with exercises in order to get better results with your clients.
In the presentation, we go through:
4 ways of assessing anatomical lines of force
What these assessments tell you and what to do about them
Designing an exercise program based on the anatomical lines of force
Why anatomical lines of force are so important
What happens to these lines of force on a day-to-day basis
How most people injure these anatomical lines of force
——————————————-
#4 – You Get Everything Else
You get everything else from the original Muscle Imbalances Revealed. Yes, all the great stuff below that we talked about before in the BenGreenfieldFitness Podcast #108 interview, including: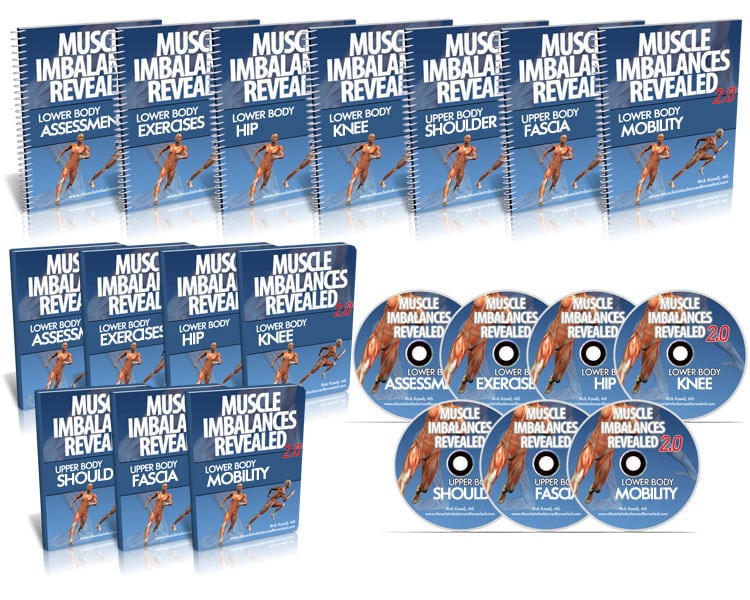 But if you are interested in getting all the stuff above, along with all the original items in the original version of Muscle Imbalances revealed, you must CLICK HERE NOW, because Rick is offering all BenGreenfieldFitness fans (like YOU),
a $50 coupon on the entire program for the next 5 days only, until Saturday.
What if you have Muscle Imbalances Revealed 1.0?
You get everything in 2.0 for FREE, because Rick offers "lifetime update" on his program, which means he is always adding new stuff like this and you get it FREE – so be sure to check your e-mail for a message from Rick to get access to all this new stuff for free.
And if you don't have Muscle Imbalances Revealed…what are you waiting for? You've got 5 days to get  it.
Closed Door
$50 OFF
"Ben Greenfield Family Discount" Ends In:
——————————————-
——————————————-