September 2, 2011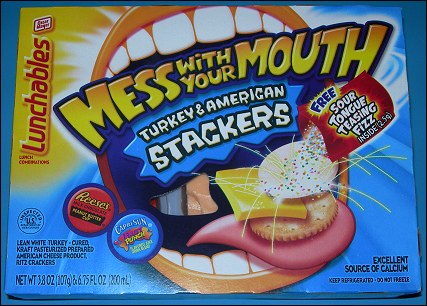 Remember "Lunchables"?
When I was growing up, this seemed like about the coolest thing ever to find in a lunch box. Pre-made, convenient, healthy, and – as noted on the box – full of awesome stuff for kids, such as "An Excellent Source of Calcium".
And it would appear at first glance that Lunchables have gotten even cooler of late.
Upon closer inspection of the front of the box of "Mess With Your Mouth: Turkey & American Stackers", you can see that the good folks at Oscar Meyer have also included "FREE: Sour Tongue Teasing Fizz Inside!" (instructional note to children: this is for sprinkling candy on your meal – you put this on your mouth before you eat the stacker and it makes it taste all fun and funky), along with CapriSun Fruit Punch and a Reese's Peanut Butter Cup.
That's not all they've thrown in! Here is a total list of the ingredients (I've gone ahead and put in bold font some of the bigger "red flags" for childhood obesity, diabetes, carcinogens, etc.):
Roast White Turkey – Cured – Smoke Flavor Added* – White Turkey, Water, Potassium Lactate, Modified Corn Starch, Contains Less Than 2% of Salt**, Dextrose, Carrageenan, Sodium Phosphates, Sodium Diacetate, Sodium Erythorbate (Made from Sugar), Smoke Flavor, Sodium Nitrite, Natural and Artificial Flavor, Pasteurized Prepared American Cheese Product – Milk, Whey, Milk Protein Concentrate, Milkfat, Sodium Citrate, Salt, Lactic Acid, Sorbic Acid As A Preservative, Oleoresin Paprika, Annatto (Color), Enzymes, Cheese Culture, With Starch Added For Slice Separation, Chocolate Sandwich Cookies – Sugar, Enriched Flour (Wheat Flour, Niacin, Reduced Iron, Thiamine Mononitrate [Vitamin B1], Riboflavin [Vitamin B2], Folic Acid), High Oleic Canola Oil and/Or Palm Oil and/Or Canola Oil, Cocoa (Processed With Alkali), High Fructose Corn Syrup, Cornstarch, Leavening (Baking Soda, Calcium Phosphate, Sodium Acid Pyrophosphate), Salt, Soy Lecithin (Emulsifier), Artificial Flavor, Chocolate, Crackers – Enriched Flour (Wheat Flour, Niacin, Reduced Iron, Thiamine Mononitrate [Vitamin B1], Riboflavin [Vitamin B2], Folic Acid), Soybean Oil, Sugar, Partially Hydrogenated Cottonseed Oil, High Fructose Corn Syrup, Salt, Leavening (Baking Soda, Calcium Phosphate), Whey (from Milk), Soy Lecithin (Emulsifier).
*Author's note: "Smoke Flavor" recipes vary, but typically include salt, sugar, sodium nitrate, propylene glycol, caramel color, natural hickory smoke flavor, a blend of natural spices and dextrose (corn sugar) and in some cases, powdered tar, charcoal and ash.
**Total salt in this is approximately my personal daily intake, as a 180 pound adult.
What is not listed in the ingredients list above is the formula for the "Sour Tongue Tasting Fizz" candy that you sprinkle on your turkey and cheese cracker before eating it.
Apparently only God knows what is in that sour fizzy surprise because Oscar Meyer won't say on their website.
While leaving Lunchables out of your back-to-school grocery shopping list is evidently a good idea, there is much more you should be doing about your child's school sustenance. In her book "Lunch Wars", Amy Kalafa shares some scary facts about school lunches:
In America, our government's School Nutrition Dietary Assessment has concluded that the vast majority of schools in America exceed USDA guidelines for the quantities of saturated fat, total fat and sodium in school lunches, and between kindergarten and 12th grade, the average child will eat approximately 3,000 of these school lunches.
The excess beef and poultry that the USDA gives for free to our school systems (albeit paid for by your taxes) are a lower food grade meat than fast-food chains like McDonald's, and in the past 10 years, the USDA paid $145 million for pet-food grade "hen-meat for school meal programs.
$1.00 is the nationwide dollar amount spent per school lunch (25 cents of that is spent on milk). So with only 75 cents left to spare, it's easy to see why many cafeterias wind up offering cheap, high-calorie, low nutrient density foods like Pop Tarts, chocolate milk and pizza.
Bottled water from vending machines is a big money-maker for schools, so free water (to keep your kid hydrated and satiate the appetite so they eat less of the junk food) is not even available in many cases.
It has been demonstrably proven that kids who do not buy their lunch at school are healthier and perform better academically, while kids who buy lunch at school are more likely to be obese. I would imagine that if "Lunchables" were factored out of the equation of kids who do not buy their lunch at school, this gap would get even wider.
I do realize that the fact that you're reading this article probably means you are not using "Lunchables" as a staple in your kid's diet, but these pre-packaged lunches are not the only thing you need to worry about when it comes to the dangers facing your child and threatening their development and health.
If you want to see more of the scary facts about school lunches, then go check out the free online episodes of Jamie Oliver's Food Revolution, which gets incredibly frightening when Jamie finds an entire classroom of six year old children unable to even identify the name of any of the fresh vegetables he has with him.
So what can you do about it?
You can pack your kid's lunches, and you can do it the smart way.
And in Sunday's post, coming in 2 days, I'm going to tell you exactly how to make a kid's healthy lunch in 3 easy steps (by the way, what I'm going to share with you works whether you're a kid packing for school or an adult packing for work).
In the meantime, if you want to learn more about children's nutrition for exercise, I'd highly recommend you read my previous post: 5 Ways That Workout Nutrition Should Be Different For Young People. 
If you have questions, comments, feedback, or your own scary kid's lunch stories to add, simply leave them below!