February 2, 2013
Click here for the full written transcript of this podcast episode.
When it comes to tracking the health of your nervous system, your ability to bounce back from a training session, and even your mental, spiritual and emotional stability, nothing is as effective as heart rate variability (HRV) tracking.
In the article "What To Do When You're Overtrained", I explain how I personally use heart rate variability testing to identify whether or not I've pushed myself too hard (and exactly how I dig myself out of the overtraining hole if my numbers are not ideal).
And recently, in the podcast episode "What Is The Best Way To Track Your Heart Rate Variability", I explain that the system I currently use is the SweetBeat HRV App for real time monitoring of heart rate variability using a smartphone app and a compatible heart rate chest strap.

But to get the most out of this type of self-quantification, you really need to geek out on this and learn everything you need to know about heart rate variability testing and analysis.
So in today's audio interview, I speak with Ronda Collier (pictured right), B.S.E.E., M.A. Psychology, who has more than 25 years of experience in high technology product development with a proven track record of delivering leading edge consumer electronic products.
Ronda has spent the last 3 years as an independent scholar researching non-invasive health monitoring techniques to improve overall personal well being, and this research led to the founding of SweetWater Health.
Want to find out exactly what I ask Ronda, listen to the interview, get some screenshots of what heart rate variability analysis looks like, and learn exactly what you need to get started?
Then keep reading…
During the interview above, I ask Ronda:
-What is heart rate variability (and don't spare the nitty-gritty details!)?
-When it comes to analyzing your numbers, what is the significance of RR, LF, HF and rMSSD?
-Can HRV be used to predict overtraining, inadequate recovery, "chances" of getting sick, etc.?
-Do different HRV testing systems use different algorithm to give you your HRV score?
-How can HRV be used to detect food sensitivities?
-And much more!
For SweetBeat HRV monitoring using the methods Ronda and I describe,  you need:
-The SweetBeat phone app:  + a wireless Polar H7 chest strap: http://goo.gl/L9asj
OR
–The SweetBeat phone app:  + a regular chest strap: http://goo.gl/L9asj + a "Wahoo" wireless adapter for your phone: http://goo.gl/ha5gV
Regarding my own personal HRV, which I sent to Ronda for 30 days to analyze, she said:
"I ran your SweetBeat sessions through some of our more advanced algorithms to get an even more precise view of your nervous system.  Your numbers were great.  You are truly a personal testament to your work!"
The following are the total averages of your sessions.  I frequently see you in the 8,000 – 12,000 range for low frequency (LF) and high frequency (HF). Your HRV is normally 100, the highest possible score."
It's good to know that I'm doing something right!
In a future episode, I'm going to share with you some of the personal meditation and recovery techniques I use to enhance my HRV score, but for now, this article would be a good place for you start.
Finally, the following charts (click to enlarge) are an additional analysis on my personal HRV and a photo of how the SweetBeat system works. Here is also a very helpful .pdf from Quantified Self if you want to dig into the nitty-gritty science a bit more.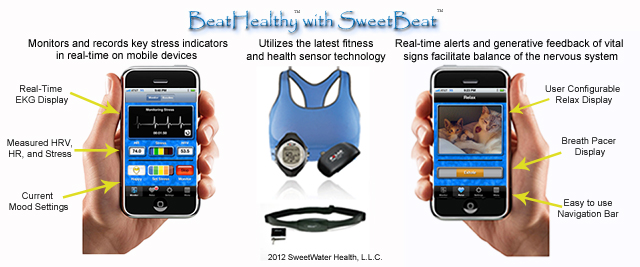 Questions, comments or feedback on heart rate variability testing? Leave your thoughts below!